If you're going to deliver a world-class, scalable platform to MSPs who have high expectations of quality and a low tolerance for error, you need a team led by a professional who can really deliver the goods.
Rene Gourley, Vice President Engineering, is that leader.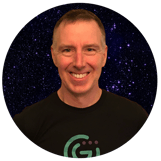 In a career spanning 30 years, Rene has gone from an individual performer developing software to managing teams of developers, architects, designers, and testers. He's delivered applications for Fortune 500 companies and managed 8-figure budgets.
His professional accomplishments while working in the banking industry includes some notable firsts:
First iOS mobile banking app in Canada

First mobile cheque deposit app in Canada

First Interac eTransfer implementation

First integrated personal management features in online banking in Canada
That best-in-class track record makes him a perfect fit at Gradient.
"Rene has decades of experience in technology, and we're fortunate to have him on the team. His background in process development and architecture, as well as his passion for mentoring and leading, means we can be confident that we're delivering a world-class platform, created by a team that works together smoothly and effectively," says Colin Knox, Gradient MSP CEO.
Among the first actions, Rene took upon joining Gradient was to create an easy-to-consume diagram to help him speak to the company's strategy and roadmap. He also evaluated existing processes and technologies to determine where to focus and then established key metrics and dashboards to track progress on improvements he wanted to make.
When asked what 2022 has in store for him and his team, he identifies the scaling of the Engineering team – 200% growth is planned.
"Everyone talks about how difficult it is to find great software developers.  However, the harder part is to bring them on board so they become productive quickly without adversely affecting the great team we already have.  I am excited to meet all our new team members (as we find them), but more excited about the opportunities for personal growth the changes will provide for our existing team members."
When he's not leading his team, Rene can be found working on his passion – a scratch-built branch of the Canada Atlantic Railway in Pembroke (in Proto:87 scale). Look for his published work in modeling in many of the industry's well-known magazines.
Gradient welcomes Rene!
We're building a talented and flamingo-loving team. Are you ready to embrace the challenge? Check out our Careers page and apply today.