Fall in
❤

with Mondays

.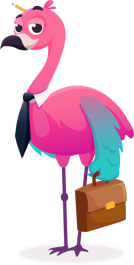 Employees matter the most
.
We believe
empowered employees

drive better customer experiences.

We believe that

confidence

breeds confidence.

We believe that

transparency

results in better business outcomes.

We believe that every employee deserves a

voice

.
Just a few of the perks
.
This section is brought to you by the flockstars at Gradient, who collectively, approve of these perks.

Employee equity
Every person working towards the mission deserves a piece. With our equity program, each employee gets their cake and eats it too.

Fully remote
Forget about morning drives and rush hour traffic. Sleep in a little longer, don't worry about wearing pants, and be comfortable where you work.

Company retreats
Vegas? Florida? Mexico? We take the whole team somewhere fun for a little bit of corporate stuff, and lots of team & relationship building.

Swag
We don't tell you what to wear, but we give you lots of options from shirts, to hoodies, hats, and more... Flamingo fashion is so in right now!

The flock
Our team is riddled with brilliance and an unmatched eagerness to help. To be frank, you'd be hard pressed to find a better crew to fly with.

Flamingos
We might be biased, but we're pretty sure Phil is the best company mascot EVER. We've yet to hear a bad flamingo joke, have you?
Find your perfect position
.
If you don't see a posting that fits your experience and expertise, bookmark this page and come back often. We plan to hire ~50 team members by the end of Q1 2022, and over 80+ by the end of 2023.
We are currently hiring for these positions 👇
Can't find your perfect position?
If you want to get a jump on things, please send us an email to careers@meetgradient.com, put the role(s) you are interested in in the subject line, include you favorite piece of flamingo trivia, and attach your resume. Just kidding about the flamingo trivia... or are we?