Things are moving at warp speed here at Gradient. In just 6 short months, we've added over 500 MSP partners and two major integrations (Liongard and Mailprotector) to the Gradient Synthesize Platform.
It takes a dedicated team of visionaries to make all of this happen so quickly.
Our Partner Support Team is an integral part of the integration process.
They developed the API documentation for vendors
They guide vendors through the API steps
They provide support throughout the integration building process
They provide ongoing support even after the integration launches
We managed to get two members of the team, Stacey Geddes, Manager, Partner Support, and A.J. Suurhoff Senior Partner Support Engineer, to pause long enough to share some of their insights. In the video below, Stacey briefly describes the role Partner Support plays in empowering our partners.
Q&A with A.J. Suurhoff
A.J. wanted to preserve his anonymity so he insisted we only contact him via carrier flamingo😉.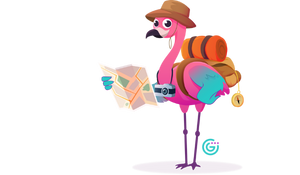 How important is the API Documentation and how was the team involved in its creation?
The API Documentation is a very important part of the integration process. It ensures that any vendor is quickly able to understand the requirements of building an integration with us. Our world-class API is effortless to use and opens vendors to an ever-growing platform of MSPs across EIGHT PSAs.
The documentation was built by the Partner Support team.
Are there other ways in which your team supports vendors?
Each vendor that builds an integration with us is provided with an onboarding experience to show them how the API works, as well as what the integration will do for both them and our partners. It is pretty amazing!
How complicated is the integration process?
We wear our API like we do our feathers; bright and open. Check us out, look under the feathers, then reach out to build into the ecosystem. Launching integrations with Synthesize is flocking easy as we support large parts of the process on the Gradient side, thus enabling Vendors to build into the Platform quickly!
Our support doesn't end once we've handed the vendors their API Keys after the initial onboarding. We encourage them to reach out to us for any issues or questions regarding the API. We will always strive to provide clarity and resolution quickly and efficiently. Our team is nimble, flexible, and always ready to help.
If you would like to join our integration program and check out the benefits for yourself—our team is standing by.