November 14, 2023 (Calgary, AB) – Gradient MSP, a pioneer in innovative solutions for Managed Service Providers (MSPs), is thrilled to announce a new integration with Sophos, a global leader in innovating and delivering cybersecurity as a service. This strategic integration simplifies and automates billing reconciliation for MSPs reselling Sophos solutions and managed security services, ensuring a seamless and accurate billing experience.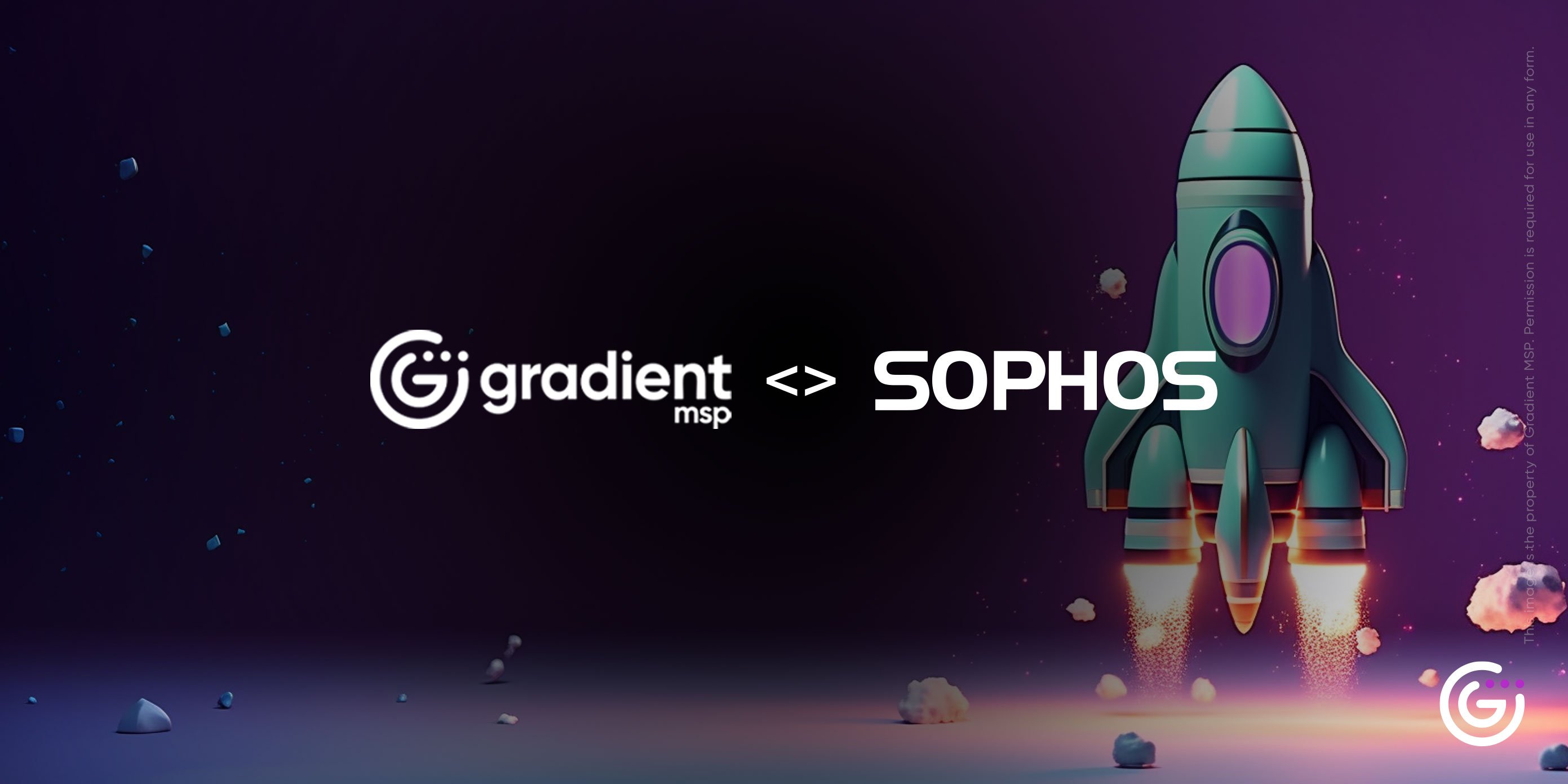 The integration automates the collection of usage data per end-customer from the Sophos Central platform and seamlessly updates client agreements within the MSP's chosen Professional Services Automation (PSA) solution. This empowers MSPs to bill effortlessly and with unparalleled accuracy. By automating this crucial aspect of the billing process, MSPs can now redirect their focus toward delivering exceptional services and driving business growth.
Colin Knox, CEO & Co-founder of Gradient MSP, expressed his enthusiasm for the integration, "At Gradient MSP, we are committed to delivering solutions that empower MSPs to thrive in a challenging landscape. This integration with Sophos Central is another testament to our dedication to revolutionize MSP billing, making it a stress-free and efficient process."
Scott Barlow, VP Global MSP & Cloud Alliances at Sophos, shared his thoughts on the integration, stating, "Sophos is excited to collaborate with Gradient MSP to further simplify billing for our mutual MSP partners. This integration underscores our commitment to empowering MSPs with the tools they need to succeed. Accurate and automated billing reconciliation will be a significant asset for MSPs selling Sophos offerings."
This integration represents significant progress for MSPs, aligning the prowess of Gradient MSP's innovative platform with Sophos' industry-leading portfolio of security solutions and managed security services.
Synthesize: automating billing reconciliation and eliminating headaches
MSPs using Gradient's Synthesize platform can reconcile billing faster, more accurately, and with less frustration. It streamlines the entire billing process, often discovering unbilled revenue in the first use. The Synthesize platform is trusted by 1,000+ MSPs worldwide.
Pricing
Synthesize platform pricing tiers are based on the number of accounts with active contracts an MSP has, making it economical for even the smallest MSP to leverage reconciliation automation. Pricing starts at $199/month, with no contracts and a 30-day money-back guarantee. Learn more on Gradient's pricing page.
###
About Gradient MSP
Established in 2020, Gradient MSP offers the IT channel ecosystem an integration platform proven to help MSPs run a smoother, more successful services business by connecting all the solutions they resell and use to their PSA of choice for billing and alerting. Gradient created the Synthesize Platform to reduce the back-office noise that distracts MSPs from growing their business and strengthening customer relationships.
About Sophos
Sophos is a worldwide leader and innovator of advanced cybersecurity solutions, including Managed Detection and Response (MDR) and incident response services and a broad portfolio of endpoint, network, email, and cloud security technologies that help organizations defeat cyberattacks. As one of the largest pure-play cybersecurity providers, Sophos defends more than 500,000 organizations and more than 100 million users globally from active adversaries, ransomware, phishing, malware, and more. Sophos' services and products connect through its cloud-based Sophos Central management console and are powered by Sophos X-Ops, the company's cross-domain threat intelligence unit. Sophos X-Ops intelligence optimizes the entire Sophos Adaptive Cybersecurity Ecosystem, which includes a centralized data lake that leverages a rich set of open APIs available to customers, partners, developers, and other cybersecurity and information technology vendors. Sophos provides cybersecurity-as-a-service to organizations needing fully-managed, turnkey security solutions. Customers can also manage their cybersecurity directly with Sophos' security operations platform or use a hybrid approach by supplementing their in-house teams with Sophos' services, including threat hunting and remediation. Sophos sells through reseller partners and managed service providers (MSPs) worldwide. Sophos is headquartered in Oxford, U.K. More information is available at https://www.sophos.com.