We're thrilled to have won Best New Solution at the ChannelPro SMB Forum 2022 in Chicago this past week. When we succeed at simplifying billing reconciliation for MSPs, that means MSPs are more successful in their business — so really, everyone wins!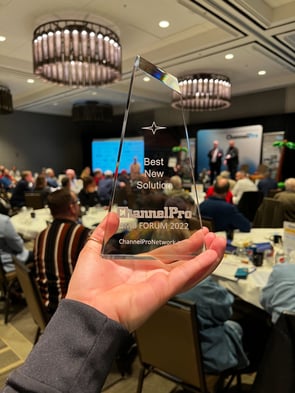 This award is voted by forum attendees comprised of MSPs and MSSPs, which means attendees recognize the value and utility of Billable™.
"This recognition is a testament to the incredible work of the Gradient team in delivering an innovative solution to our MSP partners," said co-founder and CEO of Gradient MSP, Colin Knox. "We deeply appreciate this award and are committed to continuing to deliver value to the channel."
The company recently surpassed 400 active MSP partners using Billable™, who enjoy features including:
Single page resale visibility
Vendor usage CSV import
Revenue and profit tracking per service
Unbilled service identification
About the Billable™ solution
Released in November 2021, Gradient Billable™ is the easiest way to reconcile billing of your MSP resale stack to your PSA, getting invoices out quicker without anything slipping through the cracks. Forget about numerous browser windows with tabs for days to determine which clients have which services and how much they're using of each. This solution represents a significant step in Gradient's vision of automating core business processes by connecting the different tools MSPs typically use. Watch how this solution can benefit your business and sign-up today.
About the ChannelPro Network
The ChannelPro Network is a media company providing targeted business and technology information for IT decision makers and channel partners. Via its websites, live events and the monthly magazine, The ChannelPro Network delivers expert opinion, analysis, news, product reviews, and advice for IT decision makers and channel partners. Perspectives from partners, vendors, distributors, and analysts are spotlighted daily.