A long time ago, in a Gradientverse far, far away, our founders saw a problem that needed fixing. An idea for a platform was born. A platform that would change the game for MSPs and vendors, offering real choice.
First, there was our Billing Module. Then came Synthesize, the one platform to connect them all— vendors and MSPs.
Now meet Alerts: a brand-new module on the Gradient Synthesize Platform that will connect your vendor stack to your PSA, allowing your alerts to flow directly into your PSA in a format that is standardized for ease and clarity!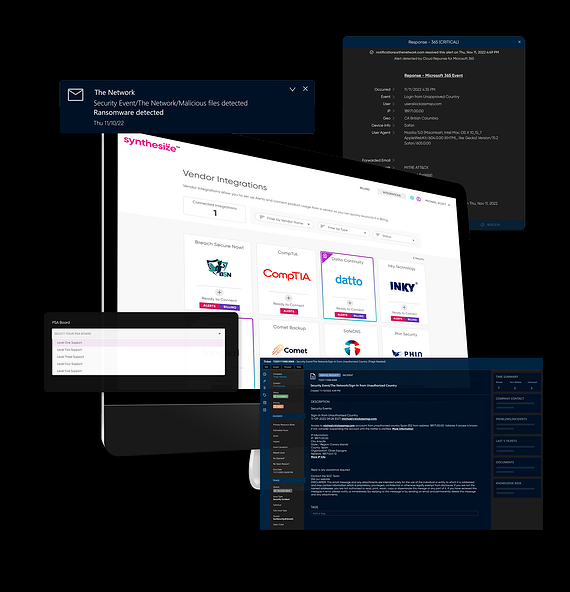 Alerts in Action
Like our Billing Module, Alerts is designed to connect Vendors and PSAs, but, instead of billing reconciliation, the platform receives alerts from vendors which we then pass down to your PSA. Once Alerts has been configured with supported vendors, we will immediately begin receiving vendor alerts within our Gradient System Queue. Those alerts will then be processed and sent to the PSA Ticketing Queue or Board of your choice.
First, the "Why"
As an MSP, you already know how onerous and complicated the notification methods are for staying on top of service alerts. For example, when your PSA receives service alerts within triage/management boards, in the form of tickets, these can multiply quickly. Or it means integrating with the vendor directly through your PSA by using a form of basic email capture to pass alerts through to your PSA.
This can lead to challenges for you and for the vendor.
Challenges for the MSP:
Many of the IT Solutions you utilize will generate alerts in one form or another, those alerts can quickly get out of hand

It's all too easy to miss alerts when sent to an inbox or PSA Board

Your technicians can waste a lot of time looking for the important alerts

"Too many alerts" can be a real pain to juggle
Challenges for the Vendor:
MSPs missing alerts = missing product value

Developing, launching, marketing, and maintaining integrations can cost you a pretty penny
Now, the "How"
At this point, you're probably thinking, "those are some tough challenges," and asking yourselves, "how will Gradient solve them all?" Well, we're glad you asked. Gradient works with vendors to establish a common single-integration point using our API, eliminating the need for MSPs to integrate with multiple vendors individually— saving you time, and reducing complexity! Or, as Gradient's Co-Founder, Colin Knox, puts it, "We will reduce that multiplicity of alerts originating from numerous sources down to a single place, making sure that nothing important ever gets missed."
We will also leverage our existing integrations with many of the major PSAs to allow the pass-through of alert information to your ticketing/triage boards. We also have plans to introduce control rules and triage options based on alert data to reduce the noise of too many alerts requiring your attention.
Now that you know what Alerts can do for you, we bet you can't wait to see it in action. We can help you with that!