March 15, 2023 (Calgary, Alberta) – Andrea Ayala, Director of Technology Alliances at Gradient MSP, was honored with CompTIA's Future Leader Award in the organization's 2023 North America Spotlight Awards last night in Chicago.
The award, which recognizes her "initiative and innovation to advance the technology industry," was determined by a panel of judges using the following criteria, according to the organization:
Positive impact on the tech industry
Contributions that support CompTIA's mission to advance the tech industry
Actions and initiatives that demonstrated leadership in their respective award category
This is the most recent award recognizing the outstanding contributions Ayala has made to the Channel. In May, CRN named her to their 2022 Power 70 Solutions Providers list in recognition of her business acumen, innovation and strategic thinking.
Colin Knox, CEO & Co-Founder of Gradient MSP, had this to say about the award: "Andrea is one of the most respected people in the Channel. Through her work at Datto and Huntress, and now at Gradient, she has demonstrated her commitment to the success of MSPs and vendors in the space. She understands the strategic importance of relationships and easily builds trust with the partners she works with."
"The whole Gradient team congratulates Andrea on this well-deserved award," he added.
In their release announcing this and other award recipients, CompTIA's Chief Community Officer, MJ Shoer, said, "The North America Spotlight Award winners have shown outstanding commitment to the growth and betterment of the entire technology industry. These members help shape CompTIA's global community through their continued commitments to thought leadership, engagement and innovation, and are helping to make the world a better place."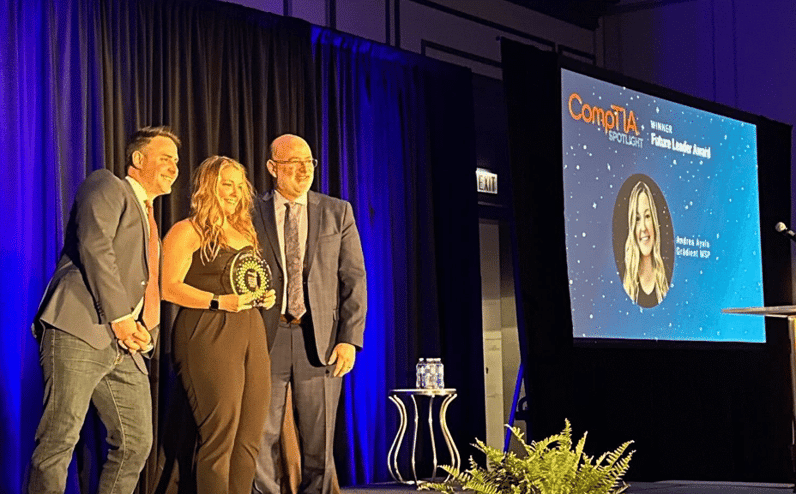 Andrea Ayala, Director of Technology Alliances at Gradient MSP, accepts the CompTIA Future Leader Award from Adam Proulx, CompTIA's Senior Manager, Member Communities (left) and MJ Shoer, CompTIA's Chief Community Officer (right) at the organization's 2023 North America Spotlight Awards March 14, 2023 in Chicago.
In her current role as Director of Technology Alliance, Ayala works directly with vendors to bring them into the Synthesize program. This program connects vendors to the Synthesize platform, allowing them to expand their reach to MSPs who may use PSAs with whom the vendor does not directly integrate. In doing so, it eliminates the need for vendors to invest the resources to build integrations, while supporting their MSP partner base by making billing reconciliation and alerting easier and less time-consuming for those partners. The program is completely free for vendors.
---
About CompTIA
The Computing Technology Industry Association (CompTIA) is a leading voice and advocate for the $5 trillion global information technology ecosystem; and the estimated 75 million industry and tech professionals who design, implement, manage, and safeguard the technology that powers the world's economy. Through education, training, certifications, advocacy, philanthropy, and market research, CompTIA is the hub for unlocking the potential of the tech industry and its workforce. https://www.comptia.org/


About Gradient MSP
Established in 2020, Gradient MSP offers the IT channel ecosystem an integration platform proven to help MSPs run a smoother, more successful services business by connecting all the solutions they resell and use to their PSA of choice for billing and alerting. Gradient created the Synthesize Platform to reduce the back-office noise that distracts MSPs from growing their business and strengthening customer relationships. meetgradient.com
For more information or to set up media interviews, please contact: