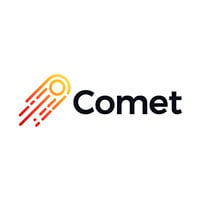 Synthesize Modules Integrated
Comet provides fast, secure backup software for IT professionals and businesses worldwide, localizing to 13 languages. It enables organizations to secure their data, deliver business continuity and disaster preparedness. Trusted by customers across 120 countries, Comet has been recognized as a 'High Performer' leader by G2, awarded "Top Performer" by Sourceforge and "Category Leader" by Get App. Comet is a privately held company based in Christchurch, New Zealand founded by a team of ex-backup professionals and industry experts.
Products integrated
Billing:


Base Unit

Disk Image Backup

Microsoft Hyper-V

Microsoft Exchange

MongoDB

Microsoft Office 365

Synology

Microsoft QL Server

Application-Aware Writer
When you install the app on a device, you'll start getting charged 1 base device license – which lets you do some basic file backups without extra cost. If you start using premium features such as Disk Image Backup, you'll get charged for that feature additionally.
Alerts:
Failed Jobs (any backup job that finishes with a non-successful state – excluding missed jobs)



The alerts work for all types of backup jobs, whether they're free with the base or premium license.
Backup & Disaster Recovery
More information you might need