Ready to recession proof your MSP?
What keeps your business from growing?

A lack of time to dedicate to seeking new customers?

Or are you spending too much money managing the ones you already have?
Seamlessly integrates with the most popular PSAs Delivering IT services is hard enough. Running your MSP business shouldn't be.
Making

your business run better
Our solutions – designed by experienced MSP pros – make your business run better. Partnering with Gradient MSP means resolving challenges that are holding you back.  Our goal is to save you time and money.
Stay on top of your alerts
We know that staying on top of alerts from your toolstack can be frustrating and error-prone. Now, with Gradient's Alerts Module, you can connect your stack to your PSA and receive standardized alerts, automatically generated as service tickets in your PSA - routed to the service board of your choosing, instantly. No more manual scanning for and creating tickets!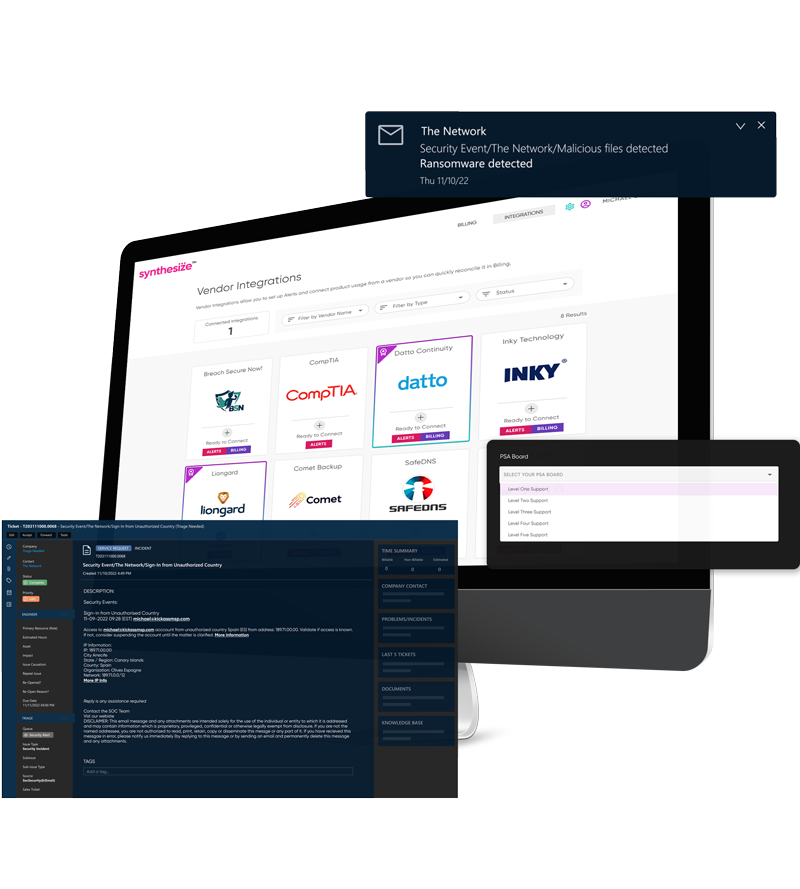 Why do you need a Gradient solution?
We get it: everyone promises to make your business better. But when you partner with Gradient, it actually happens. Here's how:
Save time
On Billing: When we speak to MSPs, we hear that their billing reconciliation process takes anywhere from a few hours to a few days to complete. That's time that's not generating new revenue, identifying new customers, selling new services, or supporting your existing clients. Streamlining the reconciliation process speeds it up and puts that time back into your month.
On Alerts: Manually monitoring multiple consoles for alerts from your vendors is not only time-consuming - it's prone to errors as well. And when you find an alert that matters to your business (and to your customers), you still need to manually create the ticket. Time wasted. Automating that process saves time and reduces risk.
Recover money
On Billing: Manual reconciliation is prone to error. You can overlook a service and miss getting paid for it this month (or worse - this year!). Or, a simple copy/paste error could undercharge a client for a service. It's not unrealistic to estimate that you could be recovering as much as 10% of your annual revenue through the elimination of these manual errors. Now just imagine what you could do with that 10% - more staff, more marketing, more security, a faster exit.
On Alerts: Time is money, and any manual task you're doing today that you could be automating is costing you money. And a missed alert that negatively impacts a customer could cost you an account. Eliminate the financial risk of manual alert monitoring with the Alerts Module.