This year's DattoCon was a resounding success with over 2500 national and international attendees, over 90 sponsored vendors, and some great speakers like Gary Vaynerchuck and Mark Rober. There were opportunities to learn about market trends, new products, and emerging technologies from industry experts. And it provided the platform for Gradient to break some big news!
The event started with a bang or, more specifically, a pre-day Gradient hosted Tiki party. Phil the Flamingo and his cohorts were in the house doing their part to bring the excitement and the people to the event. Gradient also got some backup from vendor partners like Breach Secure Now, Nodeware, Inky, Liongard, and our PAC member, Paul Brunet.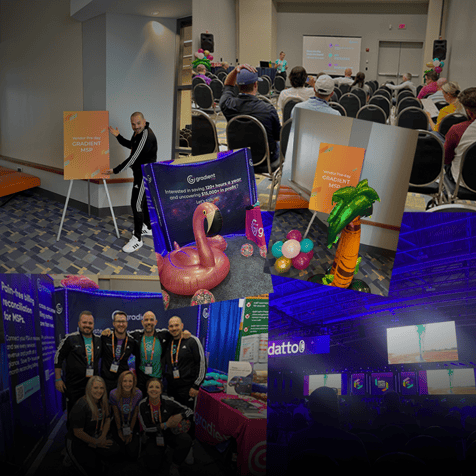 In addition to catching up with partners and learning about essential industry news, Gradient announced the launch of its Datto Business Continuity Integration and the upcoming launch of Alerts.
The Datto Continuity Integration gives MSPs the power to organize Datto Services based on their billing and reconciliation practices. The initial features include:
A brand-new experience for mapping services and accounts and managing new and existing integrations. Allowing for reconciliation with three Datto services:

Offsite Storage

Per Agent

Per Device

Different agent types, such as NAS shares (MSPs will have to decide whether to reconcile or ignore these).
The Datto Continuity integration supports all PSAs currently supported by our Billing Module. The integration does not support SaaS Backup (Backupify) at this time.
Please keep your eyes on Gradient for information on Alerts as we get closer to the official launch in early October.
And don't forget to save the date for DattoCon 2023, October 2-4, 2023 in Miami, FL. See you there!