The smarter way to stay on top of alerts
Monitoring vendor alerts was frustrating and nerve-wracking. Not anymore.
You watch email and monitoring consoles, sifting through irrelevant messages - and you hope you don't miss anything important.
Or worse: find out you did miss something when your customers call.
Not anymore.
Meet the Synthesize Alerts Module.
Get to know the Synthesize Alerts Module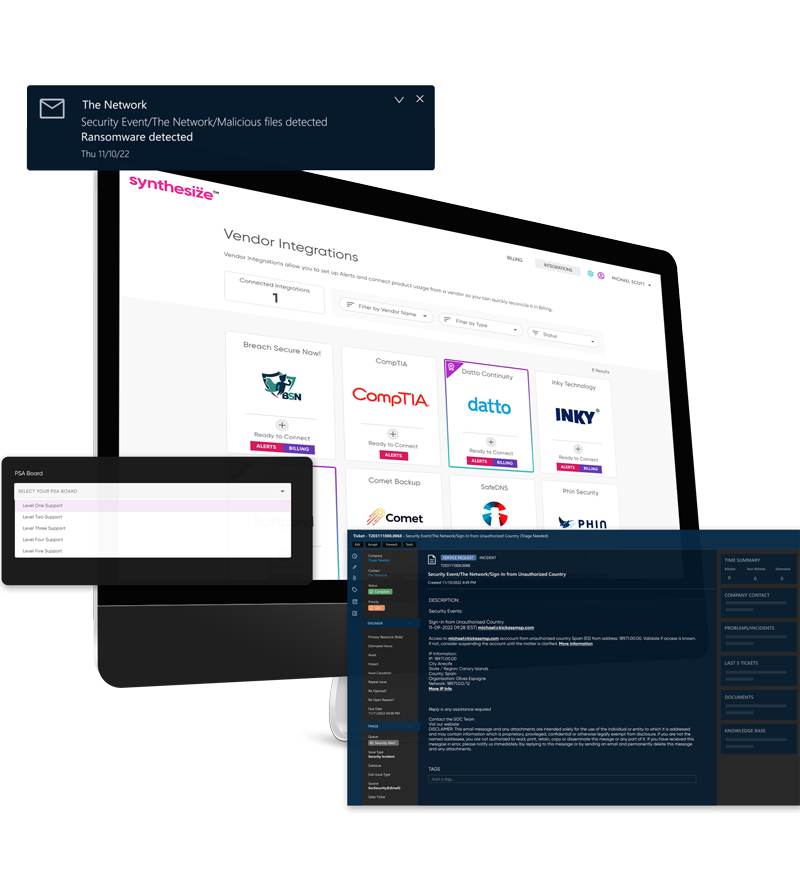 Connect your vendor stack to your PSA using the Synthesize Alerts Module and watch as your alerts flow into your PSA in a standardized format.
Automatically generate tickets within your PSA by mapping the tickets that matter to YOU - and route them into the right queues instantly.
Imagine the time and money you'll save when you eliminate the need to manually MONITOR and CREATE tickets.
Just another way Gradient saves you time-and-dime in managing your MSP.
"Our goal as an MSP is to streamline and simplify everything we do. Alerts will help us in achieving that goal. Cutting down the noise with standardized alerts direct in our PSA! Yes Please!"

Paul Brunet
CEO at Great White North Technology Consulting
"
We are thrilled about the new Alerts module from Gradient MSP. This will help us tremendously in efficiency and visibility of the alerts we need to pay attention to. This will be a game changer for our team and can't wait to see the time it will save us!

"

Paco Lebron
CEO & Founder ProdigyTeks
We

sync with

the

most popular

PSAs Don't see your PSA in our list? Let us know!
Features and details
All the features of Billing Basic
Map services and vendor solutions to preferred service boards in PSA
Automatically create standardized service tickets in PSA from alerts
Standard Alerts Integrations
All prices in USD. Pricing may change at any time without notice.