"When you're a tech start-up, every choice you make is super important. There's not a lot of wiggle room for screw-ups."
One of the most important early tasks for a start-up is establishing your support team. Where do you find the right talent and how do you convince them to take a risk on a start-up?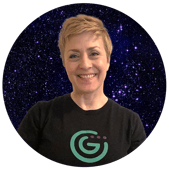 For starters, to build a successful team, you need a committed recruiter. Gradient has found that flockstar in Monica Guzzwell. Monica joined Gradient in November 2021 as Director, People & Culture.
In three months she has led the recruiting efforts to bring on 28 new members to the flock. Talk about recruitment on steroids! But how did she do it, and what insights can she offer to a tech start-up looking to bolster its own talent pool? Monica was kind enough to share some of her insights.
1) What is the first thing you need to do to recruit for a start-up?
You need to know the company's story and make it an integral part of your recruitment messaging. You need to be able to articulate why are we here and what drove our founders to commence this start-up journey. What are they looking to accomplish with this new start-up? In the case of Gradient, that one is easy. We are looking to fundamentally make the world a better place for MSP's (Managed Service Providers). We genuinely want to better the lives and businesses of MSP owners around the globe. Who doesn't want to be a part of something like that?
2) How important is the reputation of the company brand in attracting top talent?
Employer branding in the age of social media is incredibly important. A prospective employee will invest a great deal of time in doing their due diligence on a prospective employer. They assess things like company culture, values, history and reputation of the founders and leadership team, diversity, equity and inclusion, career growth, and community involvement. A start-up needs to establish the right tone right out of the gate. Gradient has been successful at doing this. The company has established a playful, tech-forward, irreverent identity and it's paying great dividends.
3) How does the recruitment process impact your ability to do your job successfully?
The process is very important. It must be smooth, responsive, and expedited. This has been especially true here at Gradient. To recruit 28 individuals in 3 months means having a process in place that is efficient and effective with little room for missteps.
4) What role does the value proposition play in aiding recruitment?
We are experiencing a war on talent and this is an employees' market. Standing out from the crowd is important, especially if you're a start-up. You can't always compete at the top salary quartile. You really need to play to your strengths or value propositions. Let's face it, joining a start-up is not for the faint of heart, so the kind of person that will join us is someone looking for an adventure and ready to take some risks. Gradient is a great place for adventurers. We offer a place where everyone has a vested interest through share options and thus thinks like an owner, we provide an opportunity to develop and grow, we supply a tech-forward sandbox to play in, and we give you the chance to help shape the MSP industry.
5) How have you helped to shape the candidate recruiting experience?
Whether or not they are successful at joining Gradient, at the end of the day, it comes down to one word, respect. We value the fact that they have taken the time to express an interest in us and acknowledge that interest. Every touchpoint should be taken advantage of to give a good impression. Is the application process easy? Is the interview process comfortable, yet professional? And do we ensure timely and responsive feedback throughout the process? Being intentional, consistent, and honest are all good steps towards a positive experience and help shape and bolster branding efforts.
By taking these tips to heart, Monica has done a great job of attracting top talent to Gradient. We hope you find them helpful in your efforts to support your own start-up adventure.
Interested in joining the flock? We're hiring – check out our careers.
Subscribe to our blog for more news and resources about Gradient MSP.