Marketing is the lifeblood of a fast-growing startup. Solidifying a brand, determining its voice and approach to communication, testing the messaging that resonates and developing a long-term vision are critical.
Fortunately, Kelly Meyers, who joined the flock at Gradient MSP in November as Vice President, Marketing, is up for the challenge!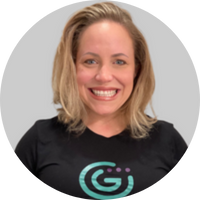 Kelly (also answers to Kiki) brings a diverse history to Gradient–as a digital marketing, content and demand generation expert, international public relations specialist, published book and magazine writer, and brand marketing trendsetter. She's worked in the fields of SaaS, fintech, safety, market intelligence, lifestyle and communications technology among others, bringing her passion for strategic marketing, storytelling, brand development and creative collaboration to startups and established businesses of all sizes.
Colin Knox, Gradient CEO, speaks about what it means to have a marketing VP of Kelly's talent on the team: "With Gradient MSP's rapid startup growth, having Kelly on the team means we can leverage every opportunity to build our brand, tell our story and grow our audience. I value the energy and enthusiasm she brings to the table and look forward to working with her to achieve Gradient's goals."
Kelly immediately embraced the opportunity and set about establishing her vision for creative, best-in-class marketing by listening to her new colleagues, building relationships and trust to understand the culture behind the business. She knew she would lead the development of a fresh marketing strategy that supported Gradient's goal of accelerated product led growth, demand generation and public relations. Inspired by the brand CEO and cofounder Colin Knox built, she then started scaling the team to match the work!
Because she studied the market, the competitors, and the roadblocks before she started, Kelly was in a solid position to hit the ground running, to learn the ins and outs of the business operations, infrastructure and processes. With a passion for lifelong learning, Kelly is continuously studying the industry and tapping into our SMEs to build her knowledge base on both the MSP and vendor sides.
She's looking forward to 2022, specifically everything Gradient plans to achieve this calendar year. "We have an exceptional team, an exciting roadmap and a solid foundation," she says. "I can't wait to see it all come together and be part of the adventure!"
Kelly is most passionate about people! Working with creative, analytical, curious humans is what drives her. She is most proud when her former team members spread their wings and fly, evolving to manage teams of their own.
Gradient welcomes Kelly!
Connect: Kelly Meyers, LinkedIn
Email: kelly.meyers@meetgradient.com
We're building a talented and flamingo-loving team. Are you ready to embrace the challenge? Check out our Careers page and apply today.
Subscribe to our blog for more news and resources about Gradient MSP.